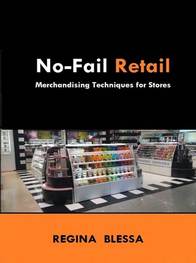 This book presents a practical approach to ensuring your retail store's success with consumers.
It explores topics, such as merchandising techniques, retail promotions, impulse buying, consumer behavior, visual perception and merchandising, display techniques, store environment and operations, customer care, and the promotional work force.
Simple and illustrated with real photos from many countries, this book lays out all the characteristics of a well designed store to win customers. It offers a strategic focus on what you need to know today to be on the same path as the large global retailers tomorrow.
CONTENTS
Presentation
The Power of Retail Marketing
Introduction

CHAPTER 1: Merchandising
Merchandising: Some Concepts
Main Functions of Merchandising
How to Visually Explain Merchandising
Merchandising Techniques
Product Supply
Reasons for Rupture
Pricing
Position
Access
Displaying

CHAPTER 2: Visual Merchandising

The Rigors of Visual Merchandising
Highlights of Basic Visual Merchandising
Windows
Ambiance
Purchasing Atmosphere
What Is the Purchasing Experience?
What Composes a Good Atmosphere?
Knowing What In-Store Atmosphere to Use
How to Create a Buying Atmosphere
The Human perception according to senses
The Buying Experience and the Five Senses
How Can I Use This Knowledge in My Store?
Design Project
Store Planning
Visual Design Is as Important as Price
CHAPTER 3: The Store
Location
Details
Traffic and Parking
Visibility
Compatibility with the Area
Neighborhood and Competition
Rent and Extra Costs
Store Floor Plan / Store Layout
External Store Image
Exterior Design
The Storefront
The Entrance
The Window Display
Impellers
Interior Design
Inside the Store
Sales Area
Identifying the Hot Areas
Product Displays
Circulation
How to Use Store Space
Store Operation
Logistics


CHAPTER 4: The Gondola
Gondolas
Shelves
Gondola Arrangement
Self-Service Product Positioning
Endcaps
Counters
Stacking
Pallets
Cleaning
What does a well-displayed product mean for you?
Managing Spaces
Planogram
Creation of Planograms


CHAPTER 5: Promotional Marketing
Promotional Actions
Promotional Environment
Planning and Implementation
Demand
Types of Promotional Actions
for Suppliers and Retailers
Suppliers Helping Train Retail
Relationship
Education and Interaction for Consumption
Loyalty Actions
Motivating Actions
Looking for Customers outside the Store
Selling Spaces for Actions in POP
Conducting Promotions
How to Improve Promotional Actions


CHAPTER 6: Understanding Customer Perception
Memory
Understanding
Loyalty
Brand Identity
Brand Experience
The Brand and the POP: A Two-Way Street
Visual Perception
Consumer Vision
Scanning Shelves in Seconds
Memorization and Generalization
Product Positioning
The Perception of Brands
Packaging
Packaging and the Decision-Making Process
Packaging Visibility
The Challenge of Attracting the Consumer


CHAPTER 7: Customer Care
Customer Service
Word of Mouth and Negative Image
How to Enchant the Consumer
Customer-Centric Retailing
Learn Which Customers
Should Receive Special Treatment
Know Your Audience
Women's Buying Power
Women Make Key Purchasing Decisions
Employees versus Consumer
First Impressions Are the Most Lasting
Promotional Work Force
Benefits to Retailers
Personal Profile for the POP Worker
Contact with People
Functions of Merchandisers
Checklist for Professional Skills Training
A Success Story: Stew Leonard's


CHAPTER 8: The Point of Purchase as Media
Promotional Material
How to Create Good In-Store Material
Basic Criteria for Obtaining
Maximum Efficiency with the POP
Advantages of Materials
Impact of Materials
Types of Displays and Their Uses
Other POP Materials
Communication with the Consumer
ROI: Return on Investment
Shopper Marketing versus In-Store Marketing


CHAPTER 9: The Psychology of Consumption
The Economic Theory of Consumption
Behavior of Consumption
Persuasion during the Purchase
Most Mass-Merchant Purchase Decisions Are In-Store
Types of Purchase Decisions
Self-Service and Hands-On Experience
Invisible Barriers That Block the Impulse
Behavior during Purchases
What May Affect the Buying Habit?
Purchase Procedures at POPs


CHAPTER 10: Trends in global retail
Eye-Tracking Research
The Consideration Set
Eye Tracking and Consideration Set
Considerations in an Eye-Tracking Study
Store Appearance Drives Shopper Attitude
Shelf Placement Drives Purchases
Leading Brands Do Well in Shelf Blocks
The Future of Omni-Channel Retailing
Big Data
Showrooming
Webrooming Eclipses Showrooming


Conclusion References